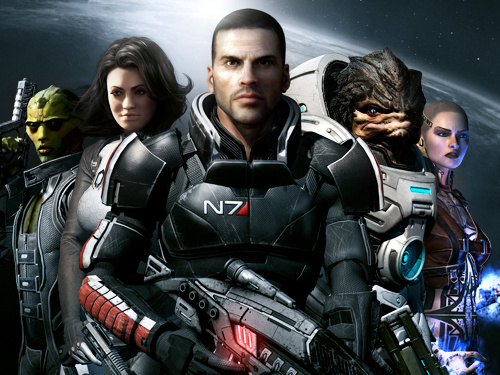 I think there's something in the air, because I'll have to be sick on November 6th. Not only does the release of Halo 4 take place, but as seen in the title of this article above, a Mass Effect Trilogy is going to be released for both the Xbox 360 and PC, and later on for the PlayStation 3.
 Winner of over 300 awards. Recipient of over 200 perfect scores. A universe that has expanded beyond games to comics, novels, apparel, collectibles, action figures and more. TheMass Effect franchise has become one of the most heralded series in video game history. BioWare, a division of Electronic Arts (NASDAQ: EA), today unveiled the Mass Effect Trilogy, a compilation of all three award-winningMass Effect games in one box. Available in stores beginning November 6, 2012 for only $59.99, the Mass Effect Trilogy is the perfect holiday gift for longtime fans or friends who have yet to experience Commander Shepard's epic journey to save the galaxy.

Coinciding with the launch of Mass Effect Trilogy, BioWare will kick off the first annual "N7 Day," a worldwide celebration of the Mass Effect franchise on November 7, 2012. Stay tuned to http://MassEffect.com for updates and announcements for a variety of in-game, online and live events which fans can congregate and fly their N7 colors.

The Mass Effect trilogy follows the rise of Commander Shepard from Alliance Marine to becoming the galaxy's mostelite soldier – the only soldier who can lead an all-out galactic war against an ancient alien race known as the Reapers. Heart-pounding action meets gripping interactive storytelling as players decide how their unique story unfolds over all three games. With a team of loyal soldiers at their side, each player decides how they will save the galaxy, from the weapons and abilities they utilize to the relationships they forge or break.

The Mass Effect Trilogy will be available on the Xbox 360® videogame and entertainment system and PC on November 6, and will be available at a later date for the PlayStation®3 computer entertainment system. Mass Effect, the game which started it all, will be available on PlayStation 3 for the first time through the Mass Effect Trilogy and digitally as a standalone title via the PlayStation Network.
I am totally baffled by gaming industries making games better than what they originally were, such as Battlefield 3 Premium edition, Medal of Honor Limited edition, several other games, and now a Mass Effect Trilogy, which are all sixty dollars. My spider-sense is telling me that many many game companies are going to make way too much money this holiday season.