Quote from: Caine on August 19, 2014, 05:02:40 PM
Midweek Madness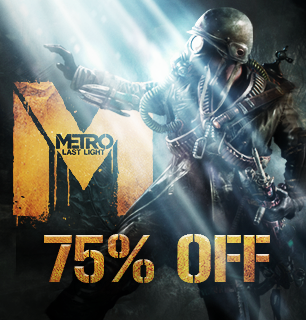 $4.99
Metro: Last Light - Chronicles Pack
- $1.24
Metro: Last Light - Developer Pack
- $0.99
Metro: Last Light - Faction Pack
- $1.24
Metro: Last Light - RPK
- $0.24
Metro: Last Light - Novel
- Free
Metro: Last Light - Ranger Mode
- $1.24
Metro: Last Light - Tower Pack
- $1.24
If you own any of the Metro games already you can also pre-purchase the Redux versions of these games for 50% off. If you don't have the initial Metro 2033 game it may be worth spending the $3.74 for it. You'll then get the 50% off on the Metro 2033 Redux which brings it down to $12.49. So $16.23 total for Redux instead of paying the full $24.99.
I'm debating weather to spend the $12.49 on it. The changes are supposed to be significant but still seems like $12.49 might be a bit high after playing it already.
Last Light your probably just better off buying the original as the changes to the Redux version are pretty minor, short of including all the DLC.