Ok next turn. I'm going to keep moving my Infantry west because I'm hoping that abandoned town might have some resources for the to take advantage of or maybe some sort of squatters. I right click on my unit and then click on their name to move them....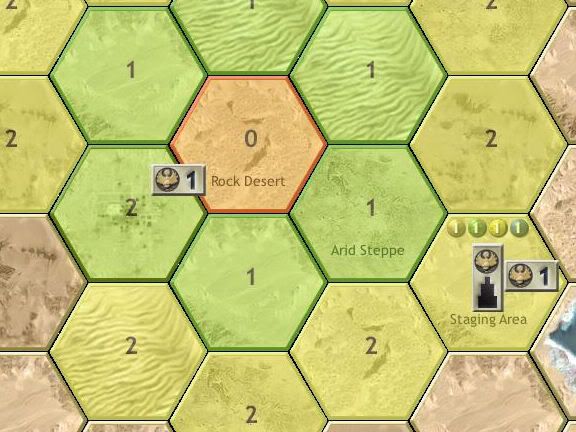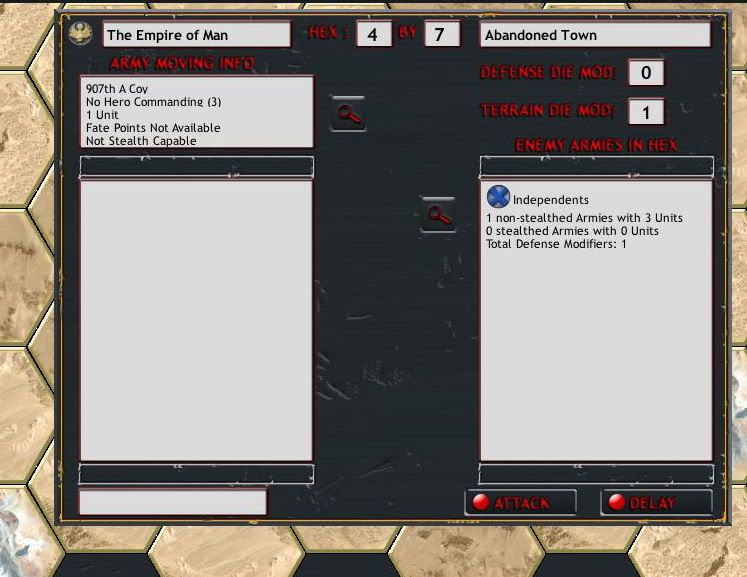 Doh! There's something there alright! But they aren't squatters! Independents. Some random warlords perhaps. You can see in the information box that they have three units and one terrain bonus. Doh doh doh! If I had had a recon unit, I would have had it in stealth mode and it would have been able to move on. Unfortunately my infantry don't have stealth mode so they're screwed. Looks like I'm going to have to show you how combat works a lot sooner than I had hoped.
Combat! I don't have any choice in the matter unfortunately-they attack me. I do have initiative in this battle though which means that I get to make the first attack.
Attacking is fairly simple. You just right-click on the unit you want to attack with, then click on "Combat Attack" and then click on the unit you want to attack. Observe below.
I chose to attack the unit directly in front of me. Could I have attacked the unit to my far right? I honestly don't know-I haven't read the manual yet lol. Anyways, he's the one we're attacking. The tentacle beast has an attack of 4 and a defence of 3. I have an attack of 3 and a defence of 3. So he rolls 3 die and I roll 3.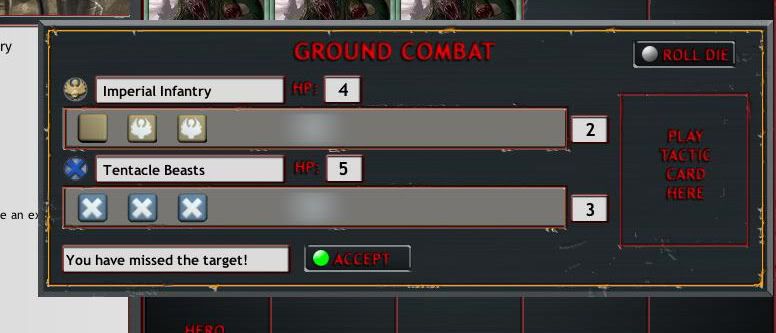 Shazbot. I roll a 2 in attack but he rolls a 3 in defense. To make a long story short, I'm screwed. I missed. It's now their turn. They roll to attack me. They beat me by 1. Now despite the fact that my unit has 4 hit points and I only lost the roll by one my unit was destroyed. I'm not sure exactly why that is. I'm wondering if it has somehting to do with the "Neuro Toxin 4" that you can see on the Tentacle Beast card. Anyways that's it for me this round. I have lots of action points because I had no units to use them with so I'm able to deploy my Grenadiers and I also draw another card which gives me some sort of Intelligence centre.
*edit* after some reading of the manual it appears that when a unit wounds their opponent with the neuro toxin attack, they automatically take off 4 minus whatever I roll for my resistance. If you go back to look at the Imperial infantry card, you can see that their "resistance" is only 1. Which means even if I would have rolled perfectly (with only one die) it would still have been 4-1. So the orignal attack of one and then the extra 3 from the neuro toxin special completely killed my unit. DOH!